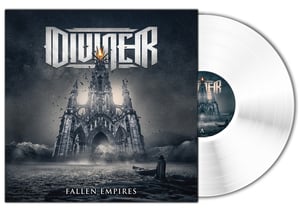 $

21.99
Diviner - Fallen Empires [LP edition white disc]
ULTLMT029
White vinyl edition of the Diviner debut album "Fallen Empires", originally released in 2015. Limited to 200 copies worldwide.
Shipping now!
Delivery times looks something like this:
Within Europe: 3-8 working days
North America: 1-2 weeks
The rest of the world: 2-5 weeks
"Fallen Empires" LP track listing
Side A
01. Fallen Empires
02. Kingdom Come
03. Evilizer
04. Riders From The East
05. The Legend Goes On
Side B
01. Come Into My Glory
02. Seven Gates
03. The Shadow And The Dark
04. Sacred War
05. Out In The Abyss
"Fallen Empires" is a very strong heavy metal album that keeps the legacy from the genre but at the same time sounds new and inspired. Perfect for fans of bands like Accept, Dio, Judas Priest and Iced Earth! Mastered by Peter In de Betou [Arch Enemy, Opeth, Amon Amarth].
Please note that the image is a concept image and that the finished product might differ.